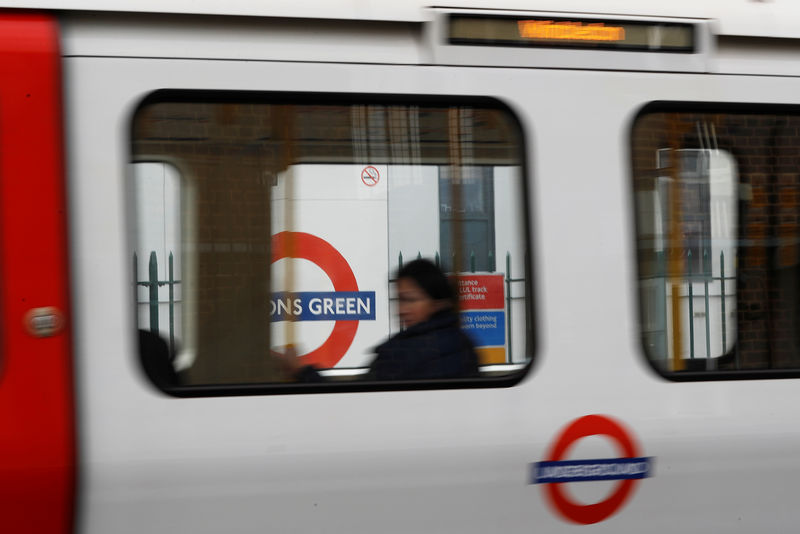 © Reuters. UK services sector grows at fastest rate in six months: IHS Markit/CIPS
LONDON (Reuters) – Britain's services sector enjoyed a sharp pick-up in growth last month but companies were nervous about Brexit, a closely watched survey showed on Friday, a day after the Bank of England raised interest rates for the first time in a decade.
The IHS Markit/CIPS services purchasing managers' index (PMI) jumped to 55.6 in October from 53.6 in September, its highest level since April and its biggest one-month rise since August 2016.
The reading exceeded all forecasts in a Reuters poll and moved further above the 50 mark that separates growth from contraction.
The services survey follows relatively upbeat PMI readings for the smaller manufacturing and construction sectors in October, and taken together they suggest the economy is growing at a quarterly rate of 0.5 percent, IHS Markit said.
This is stronger than the 0.4 percent recorded in official data for the three months to September and, if sustained, suggests annual growth will rise from the four-year low of 1.5 percent recorded in the second and third quarters of 2017.
But businesses are unsure about the outlook, and optimism among services companies remained well below its long-run average, fueled mainly by uncertainty over Brexit, the PMI data showed.
"While an upturn in business activity growth adds some justification to the Bank of England' decision to hike interest rates … a deeper dive into the numbers highlights the fragility of the economy," said Chris Williamson, chief business economist at IHS Markit, which compiles the PMIs.
BoE Governor Mark Carney said on Thursday that the central bank's next move would be heavily influenced by the progress of talks on Britain's departure from the European Union.
Growth could get a boost if a transitional deal gave businesses confidence to invest.
But a fall in the pound if there was a failure to reach a deal could intensify inflation pressure.
Friday's survey showed inflation pressures remained firm.
The services PMI, which covers non-retail businesses, said firms were putting up prices at the fastest rate since April.
Costs increased rapidly, though at the slowest rate in just over a year, possibly tallying with the BoE's view that the inflationary effect of last year's more than 10 percent fall in the value of the pound is starting to fade.
Across the economy as a whole, the PMI showed that job creation was at its weakest since March.
"Squeezed margins and concerns about the economic outlook had led to more cautious hiring strategies," IHS Markit said.
(([email protected]; +44 20 7542 5109; Reuters
Messaging: [email protected]))
sponsoredArticle = 'div-gpt-ad-1466339494851-0';