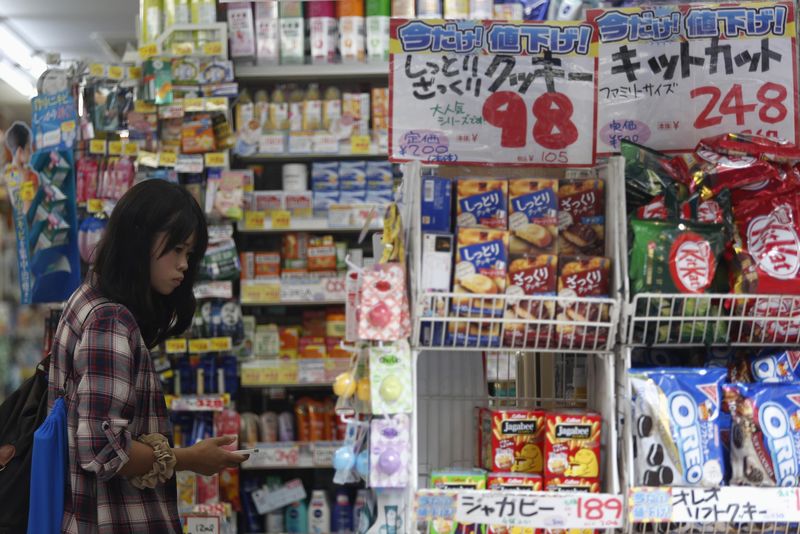 © Reuters. Japan Sept price-adjusted wages down for fourth straight month
TOKYO (Reuters) – Japanese wages fell 0.1 percent in September from a year earlier after adjustment for inflation, down for the fourth straight month, suggesting consumer inflation could take a hit as salaries fail to keep pace with rising prices.
The decline, announced by the labor ministry on Tuesday, comes despite persistent calls by the government for companies to boost salaries to help drive economic activity.
Wage earners' nominal cash earnings rose 0.9 percent compared with the same month last year, accelerating from 0.7 percent growth in August and marking the fastest rise since July 2016.
Tepid wage growth is a thorn in the side of the central bank, which has been asserting that the tightest job market in four decades will push up wages — leading to stronger consumer spending and eventually its target rate of 2 percent inflation.
Many companies remain reluctant to spend their record cash reserves on wage hikes out of fear they will not be able to pass on the costs to customers who are accustomed to years of mostly falling prices.
In response, the government is considering expanding tax breaks for companies that raise wages, to achieve a 3 percent increase in overall salaries, sources have told Reuters.
Special payments, which includes bonuses, climbed 11.6 percent year-over-year in September, the data showed.
Regular pay, which determines base wages, rose 0.7 percent from a year earlier.
Overtime pay, a barometer of strength in corporate activity, inched up 0.9 percent.
The ministry defines "workers" as 1) those who are employed for more than one month at a firm that employs more than five people, or 2) those who are employed on a daily basis or have less than a one-month contract but had worked more than 18 days during the two months before the survey was conducted at a firm that employs more than five people.
To view the full tables, see the labor ministry's website at: http://www.mhlw.go.jp/english/database/db-l/index.html
sponsoredArticle = 'div-gpt-ad-1466339494851-0';