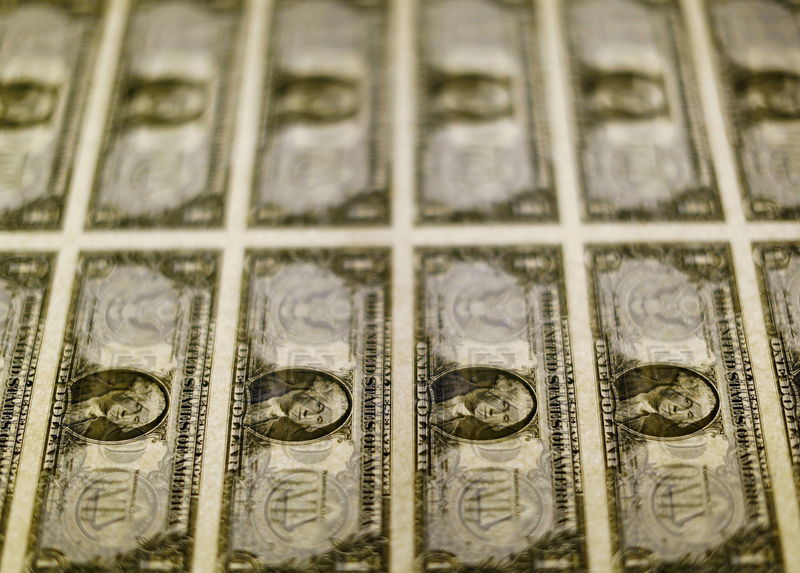 © Reuters. Dollar still slightly lower vs. rivals in cautious trade
Investing.com – The dollar remained moderately lower against other major currencies on Monday, but was still hovering near a three-month high as markets as markets were still digesting a string of economic indicators and political events.
The U.S. dollar was boosted after the Commerce Department reported on Friday that the U.S. economy grew at a 3% annual rate in the third quarter, better than forecasts for growth of 2.5%.
The stronger-than-expected reading underlined the case for the Federal Reserve to raise interest rates befoe the end of the year.
The greenback was also supported after House Republicans passed a budget blueprint for 2018 last week, setting the stage for a tax overhaul. Some investors believe tax reforms could bolster growth and prompt the Fed to raise rates at a faster pace.
However, investors remained cautious following a report that U.S. President Donald Trump is considering nominating Federal Reserve Governor Jerome Powell to lead the U.S. central bank, a move that would signal continuity for monetary policy.
Powell is seen less hawkish than Stanford University economist John Taylor, another potential nominee to lead the Fed.
EUR/USD rose 0.22% to 1.1634, while GBP/USD edged up 0.18% to trade at 1.3157.
The euro remained under pressure after Spain's Prime Minister Mariano Rajoy assumed direct control of the region on Friday and called for a snap election on Dec. 21 following its unilateral declaration of independence from Spain.
The euro was also pressured lower after the European Central Bank said late last week it is extending its bond purchases into September 2018 while reducing monthly bond purchases by half to €30 billion per month from January. The move led investors to push back expectations for rate hikes to 2019.
The yen and the Swiss franc were steady, with USD/JPY at 113.61 and with USD/CHF at 0.9980.
The Australian dollar was little changed, with AUD/USD at 0.7678, while NZD/USD declined 0.45% to 0.6855.
Meanwhile, USD/CAD edged 0.16% higher to trade at 1.2831.
The U.S. dollar index, which measures the greenback's strength against a trade-weighted basket of six major currencies, was down 0.17% at 94.56 by 06:15 a.m. ET (10:15 GMT).
sponsoredArticle = 'div-gpt-ad-1466339494851-0';