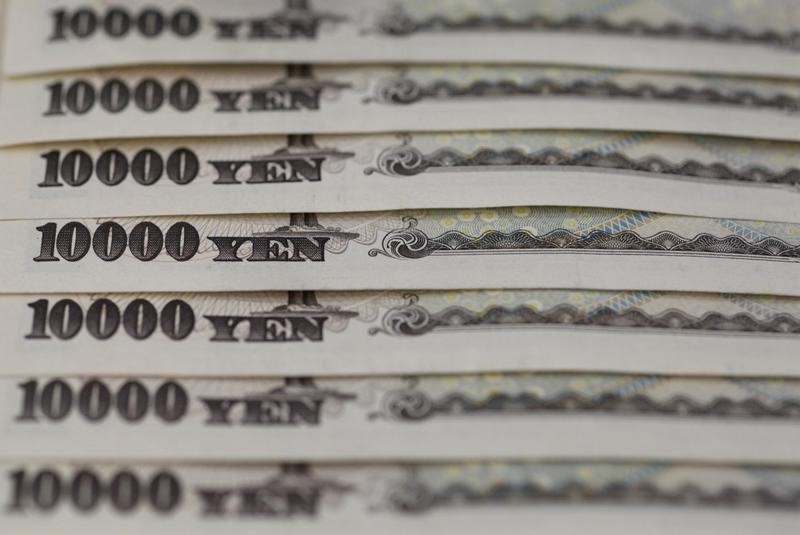 © Reuters. Yen gains in Asia
Investing.com – The dollar fell against the yen in Asia on Tuesday as early data points from Tokyo painted a mixed picture with household spending showing a surprise gain on month and as investors looked ahead to a central bank review in Japan and a key PMI report out of China.
USD/JPY dropped 0.13% to 113.03, while AUD/USD was quoted at 0.7694, up 0.08%.
The U.S. dollar index, which measures the greenback's strength against a trade-weighted basket of six major currencies, inched up 0.01% to 94.39.
In Japan, household spending for September rose 0.4% on month, beating the 0.1% gain seen, and at a 0.3% decline on year, missing the 0.7% gain expected. As well, industrial production fell 1.1% on month provisionally, less than the 1.5% decline seen. The unemployment rate in Japan was steady at 2.8%
In Australia, private sector credit is on tap for September with a 0.5% gain seen on month. China reports the official manufacturing PMI for October with a level of 52 expected, and also releases its non-manufacturing survey which came in at 55.4 in the previous month.
Later, the Bank of Japan ends a two-day monetary policy review and is expected to keep policy steady, including ¥80 trillion in annual asset purchases. The BoJ will also release its outlook report and core CPI estimates. Other data includes housing starts and construction orders.
Overnight, the dollar fell against a basket of major currencies after data showed inflation remained subdued ahead of the Federal Reserve's two- day policy meeting slated for Tuesday.
Fresh on the heels of posting its best weekly gain of 2017, the dollar came under pressure after investors mulled over a duo of reports showing inflation continued to stutter while consumer spending notched its biggest monthly increase since August 2009.
The Federal Reserve's preferred inflation measure, the personal consumption expenditures (PCE) price index excluding food and energy, rose 1.3% in the 12 months through September.
That was in-line with expectations but well below the Fed's 2% target, fuelling expectations that the trend of subdued inflation will keep interest rates lower for longer.
Consumer spending, which accounts for more than two-thirds of U.S. economic activity, jumped 1% last month, the Commerce Department said on Monday.
The duo of reports comes amid ongoing speculation concerning President Donald's Trump choice of candidate to replace Janet Yellen as head of the U.S. central bank.
Trump is likely to pick Federal Reserve Governor Jerome Powell to replace current Fed chair Janet Yellen, Reuters reported on Monday, citing a source familiar with the matter.
Trump is expected to announce his choice on Thursday, prior to his five-nation trip to the Asia Pacific region as the U.S. seeks to curb North Korea's growing nuclear threat.
The tumble in the dollar, however, is not expected to continue as data showed that traders abandon some of their bearish bets on the greenback.
The pound and euro were the main beneficiaries of the slump in the dollar as both currencies hit session highs.
sponsoredArticle = 'div-gpt-ad-1466339494851-0';